Voters say yes to state taxes, no to antiabortion measures
More than 150 ballot initiatives – on issues from gay marriage to renewable energy – were decided Tuesday.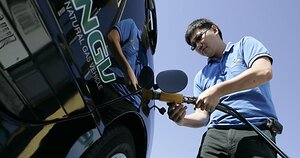 Marcio Jose Sanchez/AP/FILE
Massachusetts rejected a proposal to eliminate the state income tax. Colorado said "no" to defining the beginning of human life as the moment of fertilization, and Florida and Arizona approved constitutional bans on gay marriage. Ohio voters, meanwhile, repealed a legislature law defining payday lending rates.
These were among the most-watched of 153 statewide ballot propositions in 36 states Tuesday, as the trend to direct democracy continues its downward dip. (Voters faced 162 propositions in 2004 and 204 in 2006.)
Unlike the presidential and congressional elections, there appeared to be no decisive drift either rightward or leftward. Instead, voters seemed to be picking and choosing based on local conditions. Some 86 measures were approved and 56 rejected, going by tallies early Wednesday.
And despite the economy, they did not appear reluctant to take on more debt. Fourteen of 15 statewide bond measures were approved across the country.
"California voters are the hardest to understand. The state is in the midst of a deep and prolonged budget crisis with an apparent structural deficit in excess of $10 billion, yet the voters just added another $12 billion in deficit spending," says John Matsusaka, director of the Referendum and Initiative Institute at the University of Southern California. "When your income is already too low for your current expenses, you might think it is not the best time to take out another big loan to buy even more."
---