Study: Election created new 'values voter'
Rejecting 'culture wars,' most people of faith signal desire for politics that build bridges.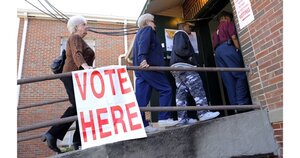 Mary Knox Merrill/Staff
Americans painted a new picture of the "values voter" in the recent election.
They rejected the "culture wars," with its narrow agendas and liberal-conservative divisiveness, in favor of politics that build bridges on a range of contentious issues. The readiness to work together is revealed in a national poll on voters' priorities and values taken on Nov. 5-7 in the immediate aftermath of the election.
Nearly three-quarters of voters (and of religious voters) said people of faith should promote the common good, not protect their own views. Even groups most active in the religious right said a broader faith agenda would best reflect their values.
Only 1 in 5 white Evangelicals and 1 in 8 Catholics said an agenda focused on abortion and same-sex marriage best expressed their values. A majority of both Evangelicals (55 percent) and Catholics (51 percent) opted for a broad agenda that also includes poverty, the environment, and the war in Iraq. The survey involved a nationally representative sample of 1,277 voters and had a margin of error of 3 percent

"Our poll shows that Catholics and white Evangelicals reject the idea that focusing on one or two issues is the right way to engage in public life," says Katie Paris, of Faith in Public Life, which sponsored the survey conducted by Public Religion Research in Washington.
Also, President-elect Barack Obama apparently made inroads into that faith community beyond those who backed him. Many white Evangelicals - nearly twice the number who actually voted for him - now say he is "friendly to religion" and "shares their values."
---