New lawmakers vow to renounce partisanship
Party leaders are likely to find congressional freshmen more independent than usual.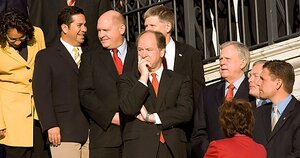 Evan Vucci/AP
The freshman Class of 2008 converged on Capitol Hill for orientation this week not just to learn the ways of Washington but also to try to change them.
Their ranks include lawyers, governors, mayors, and former congressional staff, as well as physicians, real estate developers, investment bankers, Internet entrepreneurs, teachers, community organizers, a cosmetics saleswoman, and a former prison guard.
What many have in common is a pledge to voters to renounce bitter partisanship and break the gridlock on Capitol Hill – pledges that, if honored, pose management issues for leadership on both sides of the aisle.
For example, incoming Rep. Bobby Bright (D) of Alabama, the outgoing mayor of Montgomery, opposes abortion rights and gun control and supports drilling in the Arctic National Wildlife Refuge.
If elected, he said he would "put party politics in the back seat." He is backed by the fiscally conservative Blue Dog coalition.
On the Republican side, Jason Chaffetz of Utah – one of only four Republicans to defeat a House Democrat in this campaign cycle – wants to wean his party off big-government conservatism, including rolling back President Bush's signature No Child Left Behind law.
---