Obama signals he will tap his rivals
Many presidents have vowed to end partisanship. Few succeed.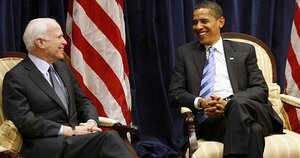 John Gress/Reuters
Will he build a team of rivals?
As President-elect Obama crafts his transition to the White House, he's reaching out to former adversaries like Hillary Rodham Clinton for potential cabinet posts and across the partisan aisle to people like GOP standard-bearer John McCain to try to forge alliances.
It's a governing style used by Abra­ham Lincoln, whom Mr. Obama says showed "wisdom there and a humility."
In Washington, where partisanship often grinds action almost to a halt, the approach is being eyed warily. History shows that most new presidents vow to reach across the aisle and end partisan rancor, to little avail.
But the urgency of America's problems – a tanking economy and the burden of the Iraq war – may be enough to allow Obama to shift the capital's governing style.
It even has a new tag: "transpartisanship." The idea is to bring together people with differing ideologies around aspects of issues on which they can agree – from economic stimulus to a more transparent government.
"The country is tired of hyperpartisanship and would love a vacation from it – and that's what it would be, a vacation, because it will be back," says Larry Sabato, a political analyst at the University of Virginia in Charlottesville. "But it's worth a try. The question is, can you bring people into the tent and keep them there? These are gigantic egos, and it's not going to be easy."
---