Georgia's US Senate runoff has broader political importance
The post-election vote could tighten Democrats' grip on Capitol Hill while giving GOP stars a chance to shine.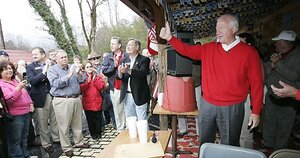 John Amis/AP
The last voters in the historic 2008 election headed back to the polls in Georgia on Tuesday, ready to decide the extent of the Democrats' grip on Washington and give Republican standard-bearers clues as to how to operate as outsiders.
"I don't mind voting again," says Democrat James Cato, an Atlanta travel agent, braving a brisk morning to file an early vote for the Dec. 2 runoff between Republican incumbent Saxby Chambliss and Democratic challenger Jim Martin. "I tend to come out when I feel my vote is really going to count."
The Senate runoff between two former University of Georgia fraternity brothers is the first election after Barack Obama won the presidency. It's become increasingly important as Democrats won the Alaska recount this week, putting them within two seats of gaining a 60-seat filibuster-proof majority in the Senate. That makes the Georgia runoff the last seat to be decided by voters as the disputed Minnesota race now heads to a recount.
---