President-elect Obama sets record for media face time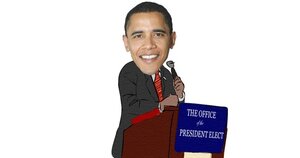 Jake Turcotte
When President-elect Barack Obama meets the press Wednesday morning, he will set a new record in post-election accessibility to the media.The press conference will be Mr. Obama's fifth since his election November 4.  That is far more face time with the press than other newly elected presidents of recent times.
The most elusive newly elected president was Ronald Reagan.  He called one press conference after his election in 1980 to announce the members of his cabinet.  And then Mr. Reagan failed to show up for the crowded session at a Washington hotel.
Instead, as Time Magazine reported then, when the moment came to announce the team that would run the government, Reagan stayed in Blair House, the presidential guest quarters on Pennsylvania Avenue.  Reagan sent spokesman Jim Brady to introduce cabinet nominees to the 350 reporters who had turned up expecting face time with the incoming commander-in-chief.
---