Efforts to sell Obama's Senate seat part of a "political corruption crime spree"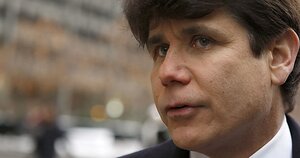 Nancy Stone/The Chicago Tribune/AP
Federal law enforcement officials were scathing in their description of an alleged attempt by Illinois Governor Rod Blagojevich to sell the Senate seat vacated by President-elect Barack Obama, calling it "a truly new low" and a "political corruption crime spree."
The governor's conduct "would make Lincoln roll over his grave," said Patrick Fitzgerald, United States Attorney for the Northern District of Illinois at a nationally televised press conference.
The government's 76-page affidavit also charges the Democratic governor with threatening to withhold state assistance to the Tribune Company's effort to sell Wrigley Field.  It was part of an attempt to get the Chicago Tribune to fire editorial board members who had written critically of him.  The document also charges Blagojevich with trying to arrange campaign contributions in return for official actions.
The Governor and his chief of staff, John Harris, were each charged with conspiracy to commit mail and wire fraud and solicitation of bribery.
Illinois:  a corruption contender
---