Corruption winds through Illinois politics
Weak laws and entrenched culture lets officials put personal gain ahead of public service.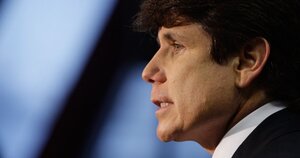 M. Spencer Green/AP/FIle
In the annals of corrupt Illinois politicians, Gov. Rod Blagojevich may go down as one of the most brazen. But he has plenty of company.
Three of the state's seven previous governors have been convicted and served time. Since 1971, by one count, 31 Chicago aldermen and some 1,000 public officials and businessmen have been convicted.
"We're the corruption capital of the United States," says Dick Simpson, a political scientist at the University of Illinois in Chicago and a former Chicago alderman, who maintains that state corruption count. "We have more [corruption] even than New Jersey and Louisiana, which are our competitors."
Politicians blame, in part, Illinois's loose system of ethics and campaign-finance laws. But the deeper issue may be an entrenched political culture in which trading favors – and money – is often expected and encouraged, people enter politics thinking more about power and personal gain than public service, and the public holds their elected officials to a low standard of ethics.
---