Rule OK's chemical tankers through cities
The railroad regulation is one of the latest 'midnight rule changes' by the outgoing administration.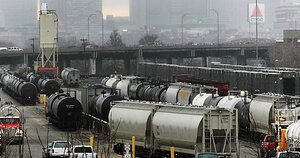 John Nordell/The Christian Science Monitor/File
The Bush administration has finalized a controversial regulation that will allow railroads to continue to ship dangerous chemicals through major cities.
That has infuriated some city officials, security experts, and environmentalists because it preempts all local efforts to control if, when, and how those railroad tank cars move through their communities.
Federal security officials have long considered railroad tankers full of such chemicals as chlorine or anhydrous ammonia to be potential weapons of mass destruction. If attacked by a terrorist or disturbed individual in the middle of a city they could cause thousands of deaths.
The finalization of the rail routing rule is one of the latest "midnight rule changes" pushed through by the outgoing administration in an effort imprint its preferences on the federal bureaucracy.
It's a common political maneuver when the White House changes hands. But it's controversial, and although many last-minute rule changes are eventually reversed, it takes time.
In this instance, the regulation leaves the decision of which route to take with deadly chemicals primarily in the hands of the railroads. Critics contend that this leaves too many communities vulnerable to a serious security threat and that state, local, and federal officials should have more input to ensure the chemicals are transported along the shortest, safest, and most secure routes.
States want more say in train routing
The National Conference of State Legislatures has called on the incoming Obama administration to rescind the regulation quickly.
"These are going to be seemingly unilateral routing decisions made by the railroads without the ability of state and local policymakers or other knowledgeable experts to have any input whatsoever as to how these trains are routed through our jurisdictions," says Susan Parnas Frederick, federal affairs counsel of the National Conference of State Legislatures.
---