Another Kennedy in the United States Senate?
Caroline Kennedy, daughter of a president and niece of two senators, wants to join the family business.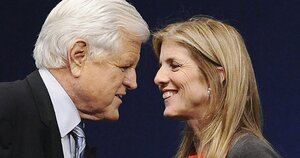 Lisa Poole/AP/File
Almost overnight, Caroline Kennedy has become the front-runner to replace Hillary Rodham Clinton when the New York senator becomes secretary of State.
The fiercely private daughter of the nation's 35th president, Ms. Kennedy is better known for her love of poetry and writing civic books for young adults than for any expertise in the rough-and-tumble political world.
But as an heir to one of America's political dynasties, her urge for public service is not that surprising.
From her early years as a child living in the White House, to a lifetime of quietly campaigning for family, to her more recent prominent involvement with the Obama campaign, politics and public service have saturated the air around her.
And from a New York perspective, what better candidate is there?
As pollster John Zogby puts it, this is the "original don't-wait-your-turn" state. From Averill Harriman to Nelson Rockefeller, from Bobby Kennedy to Hillary Clinton, the Empire State is known for its love of a celebrity.
---