Obama names basketball buddy and fellow Harvard alum as Education Secretary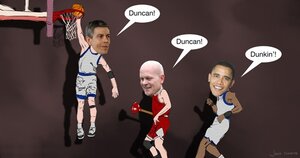 Jake Turcotte
Barack Obama named his longtime basketball buddy and fellow Harvard alum Arne Duncan to be Education Secretary, a position of considerable importance in an administration loaded with Ivy League grads who value intellectual achievement.
Duncan has headed the Chicago public school system, the nation's third largest, since 2001.  He has a reputation as an educational reformer, and test scores rose during his tenure.  "When it comes to school reform, Arne is the most hands-on of hands-on practitioners," Obama said at a Tuesday morning press conference.
The announcement of Duncan's nomination was made at Dodge Renaissance Academy on Chicago's West Side, a site cloaked in symbolism.  Duncan closed the once failing school and later reopened it as both a school and teacher training facility.  The result, according to the Dodge web site," in math, 79.4% of our students meet or exceed state goals; in reading, 69.7% of our students meet or exceed the goals."
My friend, Arne
Obama referred Duncan as "my friend, Arne Duncan."  The nominee's closeness to the president-elect also can be seen in the fact that he was among those who played basketball with Obama on Election Day. He has played pick-up ball with Obama since the 1990's.
At the press conference, the president-elect quipped that, "I did not select Arne because he is one of the best basketball players I know."
---