Obama weighs a supersized stimulus plan
His team looks ready to spend at least $675 billion on projects to jolt the US economy.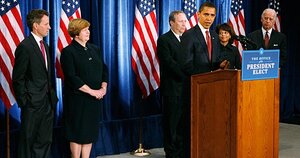 Jeff Haynes/Reuters
President-elect Obama's economic recovery plan is growing into a stimulus bill so large that it is likely to go where no such government efforts have ever gone before.
Current estimates for the stimulus legislation's cost range from $675 billion to $850 billion. If it clears Congress, it would rank as one of the most expensive single bills ever passed by US lawmakers.
The US economy is in such dire shape that it needs a jolt of surpassing size, according to incoming administration officials. Many economists outside government agree.
Still, the rapid expansion of Mr. Obama's plan has generated worry in Washington that it could evolve into an inefficient mash-up with many wasteful individual projects. Plus, no one really knows exactly what will happen if the government pumps this much money, this fast, into the economy.
"This is largely unexplored territory," says Tyler Cowen, an economist at George Mason University in Fairfax, Va.
Before he left for a two-week holiday in his native state of Hawaii, Obama approved an increase in the employment goal of his recovery effort from 2.5 million to 3 million jobs.
The move came after a four-hour briefing from economic advisers who laid out a bleak forecast for coming months, with unemployment possibly passing 9 percent. (It's currently at 6.7 percent.) Christina Romer, incoming chair of Obama's Council of Economic Advisers, argued that the US is facing its most severe recession in 50 years, said transition officials.
---