Can America spend its way to economic recovery?
Conservatives, resisting big government outlays on principle, begin to build the case for other options.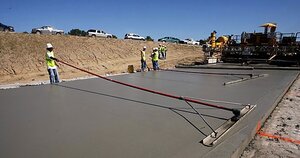 Emily RasinskiSt/Louis Post-Dispatch/AP
With the US economy floundering, a massive new federal spending program to avert a deeper fall is gaining momentum, but critics are beginning to mount a resistance.
They concede it will be tough slogging, in part because the "let the markets work" strategy has failed so conspicuously and in part because people don't want to hear that years of excess have their price.
"The message that things have gone wrong [and] we have to take our lumps is not a popular message," says Tyler Cowen, an economist at George Mason University in Fairfax, Va. "It's counterintuitive to say for 15 years that Americans have spent too much and taken on too much debt and then to think the way out of the mess is to have the government borrow some more and spend for us."
For Washington's vast retinue of lobbyists and think tanks, the prospect of $1 trillion in new spending is the top issue of the preinaugural season. For many Republicans among them, the notion that government spending at this scale is "the solution" undercuts the core principle they hope to use to rebuild the party brand and work back to power.
Even longtime allies, such as the US Chamber of Commerce and usually reliable conservative economists, were joining the big-stimulus bandwagon.
Last week – following press reports that the Obama transition team could find only one economist opposed to a big stimulus plan – House Republican leader John Boehner sent out a call to economists to make their doubts known. By Monday, 100 economists had responded, say Boehner aides.
---