Will Obama's plans help the middle class?
Presidential policies aim to tackle average Americans' widening insecurity.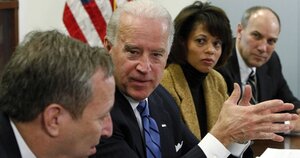 Jim Young/Reuters
America remains a "yes, we can" kind of nation, but the aspirations of the vast middle class are under strain – enough to be the subject of a presidential task force.
President-elect Obama made it official earlier this week. Come January, a key job of Vice President Joseph Biden will be to come up with ways to boost middle-class incomes and to address related concerns about job and retirement security.
Of course, the very phrase "middle class" is a fuzzy one, and a topic perennially on the minds of politicians. But ordinary Americans are confronting a real economic squeeze.
Pay isn't rising as fast as it used to, relative to economic growth. And over the past decade, households have stretched their debt loads to historic highs. Now an economic downturn is amplifying concerns about the security of careers, health insurance, and pensions.
In November, consumers pulled back on their spending for the fifth straight month, the Commerce Department reported Wednesday. Polls suggest widespread feelings of financial insecurity among working families – not just the direct impact of job losses – are a big reason.
"It's an extremely important issue and a very timely one economically," says Lane Kenworthy, a sociologist at the University of Arizona in Tucson. "The time is right for a very serious look" at middle-class challenges.
---