Will Obama 'deimperialize' the presidency?
He has criticized Bush's attempts to trump Congress, especially on war issues.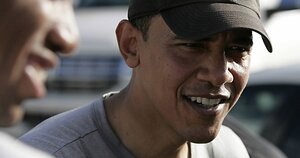 Hugh Gentry/Reuters
As a US senator and presidential candidate, Barack Obama routinely criticized the accretion of presidential power during the Bush years.
But in the run-up to assuming the presidency himself, the president-elect has gone silent on whether he would roll back powers claimed during the Bush years – or support congressional efforts to do so.
The president does not have the constitutional right to trump laws of Congress when he deems it necessary, he said on the campaign trail.
When asked, then-Senator Obama said that he would not use signing statements to subvert the intent of congressional laws – a device used by President Bush to challenge hundreds of points of law. Nor would he challenge congressional limits on the deployment of US forces abroad.
"As president, I will not assert a constitutional authority to deploy troops in a manner contrary to an express limit imposed by Congress and adopted into law," he said in a Dec. 20, 2007 interview with The Boston Globe, circulated by the transition team.
As a US senator, he introduced a resolution (S.J. Res. 23) that stated that "any offensive military action taken by the United States against Iran must be explicitly authorized by Congress."
But some civil libertarians say that the precedents of the Bush years are so threatening to a constitutional balance of powers that Obama should act swiftly in the new administration to restore that balance.
---