Richardson withdrawal jars transition
The candidate for secretary of Commerce faced pressure from a federal investigation into one of his political donors.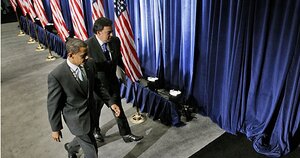 Pablo Martinez Monsivais/AP/FILE
President-elect Obama's smooth assembly of his cabinet has hit a jarring pothole with New Mexico Gov. Bill Richardson's decision to withdraw his name from consideration as the next secretary of Commerce.
Governor Richardson announced on Jan. 4 that he would not pursue the Commerce job due to a federal investigation into how one of his political donors landed a lucrative state transportation contract.
While insisting he would ultimately be cleared in the grand jury probe, Richardson said the matter "would have forced an untenable delay in the confirmation process."
Now Richardson, an affable backslapper who served seven terms in Congress, won't be around to help lobby lawmakers for the new administration's planned economic stimulus package.
The Obama transition team will have to rush to fill the key post as soon as possible. In addition, Obama officials will inevitably face questions about how thoroughly they vetted Richardson, in light of public disclosures about his ongoing legal troubles.
There's no public evidence that transition officials asked Richardson to step aside. But they don't appear to have tried particularly hard to talk him out of his decision, either.
Mr. Obama himself said in a statement that he accepted Richardson's withdrawal "with deep regret," and that he looked "forward to his future service to our country and in my administration."
Richardson's political problem may have been that the legal troubles he faces echo the "pay to play" allegations recently leveled against Illinois Gov. Rod Blagojevich (D).
At issue in Richardson's case is the relationship between the New Mexico state government and CDR Financial Products, a Beverly Hills, Calif., company with business dealings across the country.
---