It's drizzling on Obama's post-election honeymoon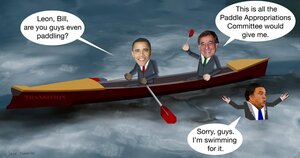 Jake Turcotte / AP photo
After a presidential transition notable for its smoothness and strong public approval, it has started to drizzle on Barack Obama's post-election honeymoon.It was widely reported Monday that Mr. Obama would name former Congressman and White House Chief of Staff Leon Panetta to run the Central Intelligence Agency. Mr. Panetta is a much-respected figure in Washington but has no hands-on experience with intelligence operations. His nomination was greeted with criticism by several influential Congressional Democrats.
Meanwhile, Governor Bill Richardson of New Mexico held a press conference Monday to explain why he decided to withdraw from consideration to be Commerce Secretary, a position for which Obama had selected him Richardson's move came in response to an investigation of whether a California firm had made improper political contributions to political committees linked to Richardson in order to win state business in New Mexico. The investigation had been widely reported in the press. Richardson strongly denies any wrongdoing.
---
Follow Stories Like This
Get the Monitor stories you care about delivered to your inbox.