In red, states seek tax hikes
Budget shortfalls are pushing many states to raise taxes in a recession.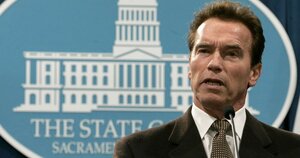 Rich Pedroncelli/AP
President-elect Obama plans middle-class and business tax cuts to stimulate the economy, but the impact of those cuts could be softened by state governments trying to hike taxes and fees to close the worst budget gaps they've seen in decades.
Most states face a budget shortfall this year. New York and California each face gaps of approximately 25 percent of their total budgets.
That means possible taxes on gasoline – passed in Minnesota and Nevada last year and proposed in California – as well as fee hikes on everything from boats to cars, libraries, and parks. New Hampshire and New York raised cigarette taxes and Indiana has raised sales taxes.
The situation also means forgoing proposed or planned tax cuts. Florida canceled a sales tax holiday and California has suspended net operating loss deductions.
"States are telling us their revenue situations are a disaster," says Arturo Pérez, analyst for the National Conference of State Legislatures in Denver. "They are looking at every possible way to make up for billions in lost revenue."
---