This is a Hollywood Inauguration - Oprah gets bigger cheer than Colin Powell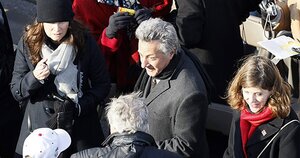 Rick Wilking/Reuters
The jumbotrons are now showing the entrance of the luminaries on the stage - possibly Muhammad Ali, a shot of Dustin Hoffman, the descendants of Martin Luther King, Jr., Dustin Hoffman, ambassadors intercut with shots of Dustin Hoffman - who exactly is being inaugurated here? There's John Cusack too - and more Dustin Hoffman.
Indeed, celebrity is in the air - footage of a motorcade (Biden's) is being liberally intercut with shots of Steven Spielberg and Oprah. This is definitely a Hollywood inauguration, particularly when one adds in Denzel Washington, Bono and all the stars at Sunday's Lincoln Memorial concert.
---
Follow Stories Like This
Get the Monitor stories you care about delivered to your inbox.