After talks with Obama, GOP lawmakers still balk at stimulus bill
Republicans want more tax cuts, less spending in a package they warn could top $1 trillion.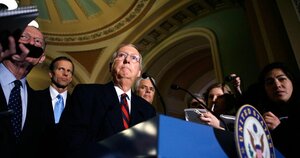 Kevin Lamarque/Reuters
In a bid to build a bipartisan vote for his $825 billion economic stimulus plan, President Obama took a rare presidential run up Capitol Hill today to talk directly to skeptical Republicans.
They listened, asked questions, made points, praised the visit, but did not commit to backing the plan, which faces its first vote in the House on Wednesday.
"We're not going to get 100 percent agreement, and we might not even get 50 percent agreement, but I do think people appreciate me walking them through my thought process," the president said, as he left a meeting with GOP senators just off the Senate floor.
"I hope I communicated a sincere desire to get good ideas from everybody," he added. "My attitude is this the first major piece of legislation we've worked on, and that, over time, some of these habits of consultation and mutual respect will take over, but old habits die hard."
In the run-up to today's meeting, House GOP leaders complained that their Democratic colleagues had drafted a purely partisan bill that left them out of the process. While praising the president for reaching out to minority views, Republican leaders are urging opposition to the plan when it comes to the floor on Wednesday.
"What congressional Democrats have put on the table is a wasteful and unfocused package that will create plenty of government programs and projects – but not nearly enough new, good-paying jobs," said House Republican leader John Boehner in a statement after Mr. Obama's visit on Tuesday.
---