Capitol Hill watchdogs are baring their teeth
President Obama would rather look to the future, but Democrats persist in probing the Bush administration's alleged misdeeds.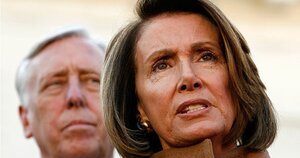 Kevin Lamarque/Reuters
With the nation losing jobs at a sobering rate, President Obama, on Capitol Hill for meetings with Republicans Tuesday, wants to keep Congress focused on the current economic needs.
But the power shift in Washington is also giving Congress an opening to dig into political controversies of the past – a move that Mr. Obama, both as candidate and president, said he would rather avoid. Exhibit A is the congressional subpoena for former Bush adviser Karl Rove, issued on Monday.
"Change has come to Washington, and I hope Karl Rove is ready for it," said Rep. John Conyers (D) of Mich., who chairs the House Judiciary panel that issued the subpoena. "After two years of stonewalling, it's time for him to talk."
At issue is whether presidential advisers can be compelled to testify before Congress. Chairman Conyers wants Mr. Rove to appear before his panel to answer questions on the 2006 firings of US attorneys, prosecution of former Alabama Gov. Don Siegelman (D), and "politicization of the Department of Justice."
---