House passes stimulus bill; now for the great Senate debate
Obama invites GOP ideas for the largest spending bill in US history.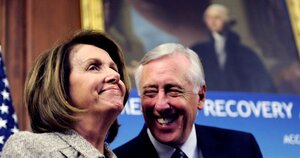 Susan Walsh/AP
With the biggest spending bill in American history on the line, the US Senate is gearing up for a debate for the ages.
With Republicans at 41 in the 100-member Senate – precisely the number they need to block legislation with a filibuster – Democrats could muscle the bill over the line by breaking off just one or two Republican votes.
Instead, President Obama is putting on a full-court press for a bigger, bipartisan vote to signal change in Washington. That means a more open process, including a full debate.
"I hope I communicated a sincere desire to get good ideas from everybody," said Mr. Obama, after meeting separately with House and Senate Republicans on Tuesday.
"My attitude is, this is the first major piece of legislation we've worked on and that over time, some of these habits of consultation and mutual respect will take over, but old habits die hard."
In contrast to the House, where Republicans complain that the $819 billion economic recovery package has been drafted without their input, the Senate is ramping up for a more open process. The American Recovery and Reinvestment Act passed on Wednesday by a vote of 244 to 188, with no Republican support. Eleven Democrats voted with 177 Republicans to oppose the bill. [Editor's note: The original version understated the number of Democrats who opposed the bill.]
In response to Senate GOP concerns, the president urged cutting some of the more controversial provisions, including $200 million to resod the National Mall and increased payments for contraceptives in Medicare.
---