Obama redefines war on terror
The president focuses on Al Qaeda and on repairing America's image in the Muslim world.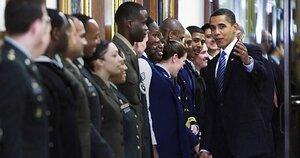 Manuel Balce Ceneta/AP
President Obama's executive orders closing the Guantánamo detention facility and outlawing torture were interpreted in some circles as closing the door on the Bush administration's global war on terror.
But Mr. Obama – who used the word "war" in his inaugural address to describe the fight with Islamic extremists who would do America harm – is not so much ending the war on terror as he is redefining it and narrowing its focus.
The president is signaling a desire to home in on the Al Qaeda organization and its leadership, as well as on those Taliban leaders who have created a haven in Afghanistan and Pakistan from which to plot against US interests, say counterterrorism experts.
At the same time, Obama aims to cleave Muslim populations from extremist forces by emphasizing his and America's common interests with the Muslim people, and by acting fast on issues that matter to them.
Within his first week in office, Obama named a special envoy on Israeli-Palestinian peace, spoke passionately about the suffering of civilians in Gaza, and gave his first television interview as president to the Al-Arabiya satellite network – pointing out that he, too, has Muslims in his family.
But just a day after Obama also named a special envoy to Afghanistan and Pakistan Jan 22, the US launched two missile attacks from CIA-operated unmanned drone aircraft at targets in Pakistan's tribal areas where Al Qaeda's top leaders are thought to enjoy refuge.
---