Corruption brings down a governor
As Illinois state senators decided his political fate, Blagojevich played the national media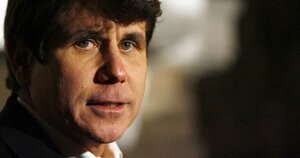 Nam Y. Huh/AP
The Illinois Senate brought to a close two months of drama surrounding the future of Gov. Rod Blagojevich on Thursday when they removed him from office, unanimously convicting him in their impeachment trial and ceding the office to Lt. Gov. Pat Quinn, who was sworn in about an hour later.
The vote came at the end of a dramatic day in the state Senate, in which Governor Blagojevich – who had refused to take part in the trial or send a lawyer to represent him -– showed up to give an impassioned 45-minute closing statement in which he declared his innocence, insisted that the impeachment proceedings were unfair, and pleaded with lawmakers to acquit him.
So far a crime has not been proven here in this impeachment proceeding," he declared. "How can you throw a governor out of office with insufficient and incomplete evidence?" The senators remained unmoved.
"He's inept, he's corrupt, he's cost the state millions of dollars," said Sen. Kirk Dillard (R) during the deliberations, echoing the remarks of many of his colleagues. "After that performance today, I wish him luck on his new Hollywood career."
---
Follow Stories Like This
Get the Monitor stories you care about delivered to your inbox.