Republicans name an African American as their party chairman
G.O.P. leaders acknowledge they have a lot of rebuilding to do in order to confront a Democratic Party which won 95 percent of the black vote in the presidential election.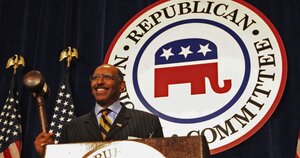 Pablo Martinez Monsivais/AP
In a historic move, the Republican National Committee has elected its first black chairman, Michael Steele. And with the White House now occupied by the nation's first black president, Democrat Barack Obama, both major parties are under the guidance of African Americans – making Friday's election at the RNC's winter meeting in Washington doubly historic.
Republicans wanted "a new face, they want[ed] to show that there is change in the party," said party activist Ann Stone, a Steele supporter.
Evident in Mr. Steele's election was a desire to send a signal that the GOP has not given up on diversity and inclusion, especially after a presidential election in which 95 percent of African Americans voted Democratic.
Until last September, the runner-up for the national chairman's job, South Carolina GOP chair Katon Dawson, belonged to a whites-only country club. Mr. Dawson had pushed the club from the inside to admit African-American members, but ultimately resigned his membership.
Steele was elected on the 6th ballot, in a hotly contested race that also included incumbent chairman Mike Duncan, Michigan chair Saul Anuzis, and former Ohio secretary of state Ken Blackwell, who is also African American. When Mr. Blackwell dropped out of the race after four rounds of balloting, he threw his support behind Steele – a move that drew gasps in the crowd, as the two men are not close.
---