Obama's backers go to the Net for stimulus bill
At weekend house parties, his campaign supporters make a postelection foray into policy.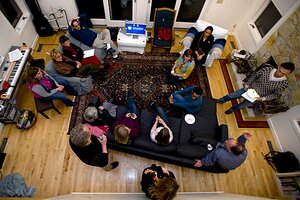 Ann Hermes/The Christian Science Monitor
Steve Wilmarth has a message for people in Washington.
"If they think that now the election is over, it's back to business as usual, [they're] wrong," he says. "We have the ability to organize."
The observation came over the weekend at one of more than 3,500 house parties coordinated around the US by Organizing for America, a group that evolved from Barack Obama's grass-roots campaign network. With the Obama administration's economic stimulus package on the line this week, OFA put out the call. Mr. Wilmarth, a managing director of a nonprofit cultural exchange organization, responded, is just one of more than 30 volunteers who responded in Chester, Conn.
The Chester gathering was part social reunion, part political event. It's part of the first test of whether Obama's Internet-fired political movement can transform from a campaign juggernaut into a policy-oriented movement that helps to push his national legislative agenda and elect like-minded people at state and local levels.
"Nobody has had anything this remotely well-organized or a list this long of people who were not only campaign volunteers, but were told there would be some kind of continued involvement," says Bruce Buchanan, a presidential historian at the University of Texas at Austin.
---
Follow Stories Like This
Get the Monitor stories you care about delivered to your inbox.