Amid peanut scandal, Georgia moves to tighten its food-safety net
On Wednesday, the state legislature began work on measures to tighten food inspections, while in Washington, the CEO of Peanut Corp. refused to testify before Congress.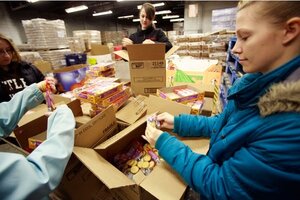 MICHELLE PEMBERTON/THE INDIANAPOLIS STAR/AP
Embarrassed and troubled by two major food-contamination scandals at peanut processing plants in three years, the state of Georgia is now vowing to spearhead efforts to fix a torn food-safety net – and save an American lunchbox standard.
On Wednesday, the state legislature took up measures designed to prevent further flouting of food-safety laws that, Congress asserts, allowed a company to knowingly ship salmonella-tainted peanut products to nursing homes and schools. So far, nine people linked to the outbreak have died, and 600 others have fallen ill.
One proposed law would essentially deputize county health officials to follow up on local scuttlebutt on plant conditions. That idea came about after legislators realized the unsanitary conditions at the Blakely plant were an open secret in the town. Another Georgia bill would force producers to inform the state immediately of any positive tests for food-borne illnesses. If passed, that law would likely set a national precedent, experts say.
"This tragic situation must serve as a wake-up call and lead to reforms in the food safety network," Oscar Garrison, an assistant Georgia agriculture commissioner, told the House Committee on Energy and Commerce Wednesday at a hearing on the outbreak in Washington. He said that Georgia "intends to lead the way."
---