It wasn't pretty, but California extracts a budget deal
A political logjam broke Thursday, with a GOP senator's vote to swallow some tax hikes in return for support for election reform.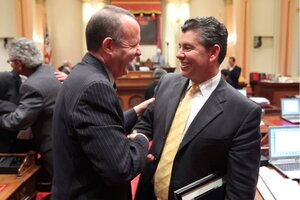 Rich Pedroncelli/AP
In the end, a deal was done. A Republican senator in California's legislature got what he wanted: assurances that lawmakers would support an election reform that makes it easier to vote moderates into office. In return, he cast the vote that ended a three-month budget deadlock that threatened the state's financial solvency and gave new meaning to the phrase "political polarization."
The holdout vote came early Thursday, after all-night negotiations in Sacramento. It means California will probably resolve its $42 million budget shortfall by raising taxes on consumption and by cutting spending. While waiting for lawmakers to resolve their differences, the state has delayed thousands of construction projects, required furloughs of government employees, and saw its credit rating fall to dead last among the 50 states.
"This might be the end for me" politically, said Sen. Abel Maldonado, who cast the deciding vote. "This vote assures that it's not the end for the people of California."
He said the election reform he wants – to switch to a so-called open primary in which voters can choose to cast ballots in either the Democratic or Republican contests – will level the playing field for moderate candidates and, thus, help to end California's yearly gridlock over the budget. The state constitution would need to be amended for this change to take place. As a result of Senator Maldonado's horse-trading, lawmakers agreed to let voters decide the matter.
Tax increases and state budgets both need a two-thirds "supermajority" of legislators to be approved – a requirement that proved to be the sticking point even though Democrats control both the Assembly and the Senate. Many voters now see the supermajority mandate as something that needs changing, say some political pundits.
---