Obama aims to cut deficit in half by '13
This week is about the budget, as he issues his first, hosts a 'fiscal responsibility summit.'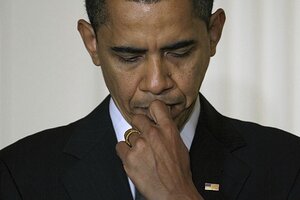 Ron Edmonds/AP
Call it Fashion Week for budget wonks. In a city known more for sensible shoes than stylish stilettos, Washington is entering a week like no other.
The action begins Monday, with a White House "fiscal responsibility summit" aimed at focusing attention on the exploding budget deficit and looming insolvency of entitlement programs. On Tuesday night, President Obama delivers a State-of-the-Union-like speech to a joint session of Congress.
On Thursday, Mr. Obama releases his first budget, or least the outlines of one. The week ends in Philadelphia, with the first official meeting of Vice President Joe Biden's Middle Class Task Force.
Taken as a whole, the week is shaping up to be equal parts substance and public relations. On Monday, Obama is expected to announce that he plans to cut the budget deficit in half by the end of his term. The White House projects that the inherited deficit of $1.3 trillion will be reduced to $533 billion by 2013, as the US withdraws troops from Iraq and raises taxes on business and the wealthy, according to published reports.
---