Obama's deficit promise won't be easy to keep
A likely topic in his address Tuesday, the long-term budget gap is largely caused by popular entitlement programs.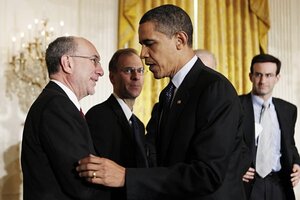 Charles Dharapak/AP
The federal deficit – a subject President Obama will likely talk about in his Feb. 24 address to the nation – is one of the most persistent policy problems in modern American politics.
Except for a period in the Clinton years, it has bedeviled US presidents for generations. The US system of government simply finds it hard to make the decisions necessary to get revenues and expenditures to match up for the long term.
Part of the problem is structural. The main drivers of the deficit are the big three entitlement programs of Social Security, Medicaid, and Medicare. They are not susceptible to yearly appropriations review, and reducing their cost is both technically and politically difficult.
Part of the problem may also be caused by the nature of democratic politics. The current system produces lots of partisan competition, procrastination, and obstruction – and may not foster the spirit of mutual sacrifice that budget-balancing requires.
"The regular political process has been incapable of dealing with long-term fiscal issues," concludes a Feb. 19 joint statement from a bipartisan group of Washington budget experts.
A promise to cut
President Obama says he will cut the long-term gap in half by the end of his first term. Much of his projected savings may come from money saved by winding down the war in Iraq, and an increase in taxes on the wealthy. Obama aides have also hinted at Medicare changes.
---