The Obama budget's big ambitions
The plan, projecting a $1.7 trillion deficit, includes a down payment on universal healthcare.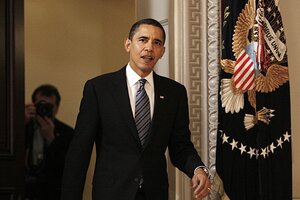 Charles Dharapak/AP
With his first proposed budget, President Obama is attempting to address some of the most difficult public-policy problems facing the United States.
He promised change, after all, and that's what he may be trying to deliver.
From a down payment on universal healthcare to a proposed system of selling pollution permits to higher taxes on the wealthy, Mr. Obama's fiscal 2010 budget outline contains a number of items that, if adopted, would represent major shifts in the direction of the federal government.
Congress is already reeling from the costs and effort of trying to revive the economy.
Obama's budget is likely to lead to even fiercer debate about national spending and tax priorities.
But given last November's election results, perhaps lawmakers should have seen these proposals coming.
"You would expect this in the first budget of the first year of a new administration," says Stan Collender, a longtime Congressional budget staffer who is now managing director at Qorvis Communications. "If you didn't get it, by itself that would have been a shock."
If nothing else, the eye-popping numbers contained in the budget outline provide some context for the Obama administration's recent focus on the need for US fiscal responsibility.
For the current fiscal year, the deficit will hover around $1.75 trillion, according to budget figures.
That figure equals about 12.3 percent of Gross Domestic Product, making it the highest deficit as a share of the economy since World War II. By way of comparison, the deficit for 2008 was $455 billion.
---