The emerging Obama doctrine
The president's pragmatic worldview is likely to temper military engagement overseas.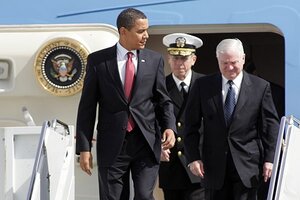 Jim R. Bounds/AP
As President Obama carves out his own foreign policy, there are signs that his use of military force overseas will be tempered by his views on the limits of American power.
Mr. Obama is leaning toward a pragmatic approach that limits military deployment of the kind used by former President Bush in the "war on terror," while remaining open to humanitarian aid and security training, especially in places such as Darfur. This approach departs from Mr. Bush but also synthesizes policy elements from Bush's later years.
"It is a very balanced, pragmatic understanding that America's interests and her ideals don't always coincide and so you have to make some trade-offs," says John Nagl, a former Army officer who now heads the Center for a New American Security, a think tank in Washington.
To a degree, Bush had come round to something resembling that position during his second term, as his administration began to recalibrate US goals amid the realities of two wars.
Obama's top-to-bottom review of US strategy in Afghanistan and Pakistan, for instance, is expected to yield a downscaled agenda there. And while Obama has established an end date for US combat troops in Iraq – something Bush did not do – he'll keep those forces there longer than he had initially wanted because of recommendations of the Pentagon, and despite the misgivings in his own party.
---