AIG bonuses leave Obama in a tough spot
Public outrage over $165 million in bonus pay puts his political capital at risk.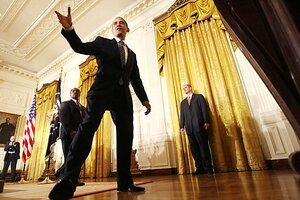 Gerald Herbert/AP
As outrage boils over the bonuses promised to executives at AIG, the ailing insurance giant that has received a massive federal bailout, President Obama finds himself in a precarious political position.
If the public, and their elected representatives in Washington, conclude that Mr. Obama and his administration did not do everything in their power to halt the bonuses, that could hinder the government's ability to gain congressional approval for future measures aiming at righting the struggling economy. Obama's entire agenda could be at risk, some analysts have suggested.
But the president is unlikely to deplete his political capital completely. Obama has shown, during both his campaign and the opening weeks of his presidency, a responsiveness to criticism and a willingness to change course that could, once again, keep him on track. Over the weekend, the message from various Obama administration officials was, essentially: "There's nothing we can do about the AIG bonuses. A contract is a contract."
Come Monday, Obama demonstrated that there was something to be done: Try to shame AIG execs into turning down their "retention payments." Instead of allowing himself to be engulfed by populist outrage, Obama joined the chorus. He ordered his Treasury secretary, Timothy Geithner, to try again to find a legal way to block the $165 million in bonuses. And even though that still seemed impossible by day's end, administration officials were saying that the Treasury Department was working on recouping the cash by retooling the terms of the latest infusion of federal cash, $30 billion, granted to AIG.
---
Follow Stories Like This
Get the Monitor stories you care about delivered to your inbox.