AIG chief faces tough questioning over 'retention bonuses'
Edward Liddy is praised by some lawmakers for taking on a tough task. But others excoriate him for large payments to those who helped bring down the company.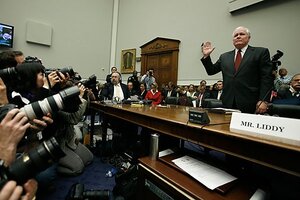 Jason Reed/Reuters
In a highly anticipated appearance on Capitol Hill today, CEO Edward Liddy said that he is urging employees to repay $165 million in "retention bonuses" at embattled insurance giant American International Group Inc.
Reports of bonuses for a company on the receiving end of $170 billion in taxpayer bailouts outraged the public and members of Congress this week - and threaten to derail future bailouts.
Responding to the backlash - including death threats - Mr. Liddy said that he and New York Federal Reserve overseers had "great anxiety" before authorizing the payments.
"But the judgment we made was that the risk was too great, and we would lose all the progress we made, if we did not pay these bonuses," he said.
At issue is how to wind down a $1.6 trillion portfolio of toxic assets - without jeopardizing the public support needed to support ongoing government interventions.
"No one knows better than I that AIG has been the recipient of generous amounts of American aid," Liddy told a House Financial Services subcommittee. "We are essentially operating AIG on behalf of the American taxpayer so we maximize the amount we can pay back as fast as possible."
---