Michelle Obama reaches out to DC high school students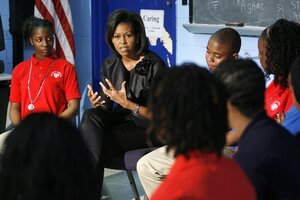 KEVIN LAMARQUE/REUTERS
Thirteen students from Southeast Washington's Anacostia High School – one of the city's most challenged public schools – have had a day they'll never forget.
They were told a "celebrity" would be visiting today, but not who. When those guys with the wires coming out of their ears began prowling the halls, they might have had a clue. But it wasn't until Michelle Obama entered the room that the students – 10 girls, 3 boys, all juniors or seniors, all African-American – saw their surprise visitor. The students gasped when she walked in.
Like a basketball coach, Mrs. O patted some knees as she worked her way around the semi-circle, then when she reached the end of the line, the hugs started.
Her message of the day: set goals, achieve your dreams.
Actually, her very first message to the students was, "Ignore those people!" She was referring to the White House press pool, yours truly included.
"So do I need to introduce myself?" she asked. A few piped up. Of course they knew who she was. But she told them she's Michelle Obama and First Lady of the United States anyway. "I think that's cool!" one girl said.
Mrs. Obama's visit was part of a Women's History Month event, in which the White House invited 21 female luminaries from all over the country – including Alicia Keys, Mae Jemison, Sheryl Crow, and Dominique Dawes – and sent them out to visit with students, mostly girls, at schools in DC and the suburbs.
---