Obama gets mixed reviews on government 'openness'
Some advocates say his policies on federal whistleblowers are too much like Bush's.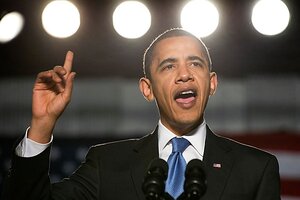 Larry Downing/Reuters
President Barack Obama is garnering good marks so far on his pledge to bring "an unprecedented level of openness" to the executive branch.
But as the government prepares to spend billions of taxpayer dollars stimulating the economy and cleaning up the banking mess, transparency advocates say it's critical the administration takes a stronger stance to protect federal whistle-blowers who report instances of fraud, waste, or abuse.
During the campaign, candidate Obama made government transparency a top priority, and he was a strong supporter of the Whistleblower Protection Act.
He made his transparency pledge on his first full day in office. He also reversed the Bush administration's restrictive policy on the Freedom of Information Act (FOIA), ordering all federal agencies and departments to adopt a presumption in favor of public disclosure.
But several recent instances, including a signing statement that could be interpreted to diminish whistle-blower protections for executive branch employees, have raised concerns about the president's ability to stick to his pledge.
Transparency advocates contend that bureaucracies are notoriously resistant to change, and national security questions, when publicly disclosed, can create thorny legal thickets. Some believe those Washington realities have already prompted the administration to send mixed signals on transparency.
---