Obama sells budget to House Democrats
The president meets with skeptics in his own party to boost support for his $3.6 trillion plan.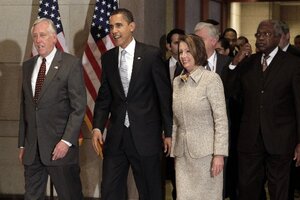 Evan Vucci/AP
In just under 15 minutes, President Obama made progress narrowing the rifts within his party over his proposed $3.6 trillion budget, according to House Democrats who attended a closed door meeting Monday evening on Capitol Hill.
Accounts of the president's visit to the Capitol – the second in as many weeks to rally Democrats behind a budget he calls "a blueprint for economic growth" – offer a glimpse into how the president is moving an ambitious agenda.
With a 76-vote majority, House Democrats could move a budget even with defections in their own ranks. But in the absence of bipartisan support — which looks elusive in the 111th Congress – the president wants every vote he can get on his own side of the aisle to signal broad-based support for change.
Leadership aides counting the votes say that these visits are helping bring Democrats together.
"The only way to get out of the economic mess we are in is to grow our way out of it," Mr. Obama reportedly told the House Democrats.
"We're all in this together," he said, in closing.
Conservatives in his party, the so-called Blue Dog coalition, are balking at the $9.3 trillion in deficits the White House budget is expected to produce over the next 10 years. They want guarantees that the new Congress will stick to pledges to find offsets for new spending or tax cuts.
---