Senators grill Petraeus on new Afghanistan strategy
Top concerns are troop levels and yardsticks for success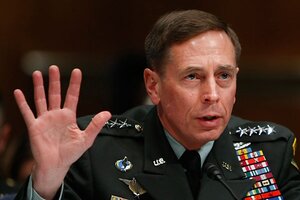 Gerald Herbert/AP
Senators grilled Pentagon officials Wednesday about the new US strategy for countering Islamist extremism in Afghanistan and Pakistan, pressing them on whether President Obama was committing enough troops to the fight and how America would measure progress in the region.
While lawmakers indicated general support for the new plan, unveiled March 27, some see the administration's postponement of key decisions about troop levels as evidence that the strategy is still a work in progress.
They asked Gen. David Petraeus and others about the need to identify a target size for the Afghan army and police, and tried to probe why the president did not deploy to Afghanistan the full number of forces requested by Gen. David McKiernan, the top commander in Afghanistan.
Mr. Obama is boosting the US force in Afghanistan by about 21,000, on top of the 7,000 additional troops former President Bush had ordered to the country. But General McKiernan's request for another 10,000 troops won't be decided on until later this year, General Petraeus and other defense officials acknowledged this week.
"If the troops were needed, would they be sent?" asked Sen. Mel Martinez (R) of Florida.
The answer: Time-lines presented to Obama allow him to make a decision later this year that could put additional forces in Afghanistan in 2010. Unspoken but implied: A force of 10,000 simply may not be available now because of commitments in Iraq. Petraeus emphasized that the Afghanistan mission requires more than just military forces, anyway.
---