Healthcare battle brewing: political groups gear up
A public insurance alternative is likely to be the most contentious of the reform proposals.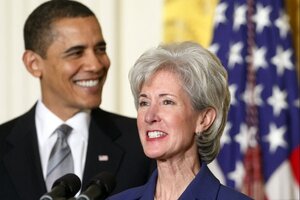 Jim Young/Reuters
The Obama administration hopes to give all Americans the option of buying into a public, Medicare-style health insurance plan. That is now shaping up to be the biggest flash point in the emerging debate about healthcare reform.
Advocates of a Medicare-style plan say it would give consumers a lower-cost alternative to private insurance, forcing those private insurers to become more responsive to consumer needs. Opponents counter that it would undermine the private health insurance market by prompting millions of businesses to switch to the cheaper, public alternative. In the long term, they argue, that would undermine consumer choice in healthcare.
Lawmakers and their staffs are currently hammering out the details of reform legislation that is expected to go to the floor in June. But interest groups on the right and left have already begun a fierce ideological battle, with each side trying to shape the public's perception of a public insurance plan.
A coalition of conservative groups led by The Heritage Foundation just issued a list of "six deal killers" for healthcare reform. Top on their list is the creation of a public health insurance alternative. On the liberal side, Howard Dean is leading a grass-roots campaign and petition drive with groups like MoveOn.org and Democracy for America to support a Medicare-for-all-type alternative in any reform legislation.
"This is a relatively new idea. It's not completely framed in the public's mind yet, and so the debate could shape where people finally come out on the idea," says Robert Blendon, a political and healthcare analyst at Harvard's School of Public Health. "Initially, people are very favorable to the idea of a choice that could get them good medical care at a lower price, but they haven't thought about the implications yet."
---