Immigration emerges as an issue for Obama
It's still 'economy first,' but advocacy groups and lawmakers are positioning themselves to take on this political hot button.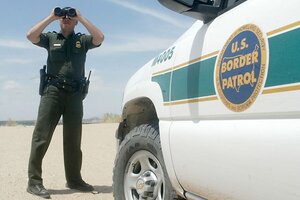 Victor Calzada/El Paso Times/AP/File
Call it a trial balloon – on one of the thorniest issues in US politics.
Immigrant rights groups hailed a report in The New York Times today that President Obama plans to take up immigration reform this year. Opponents said the move could jeopardize healthcare reform and other elements of the president's agenda in tough economic times.
The report, sourced to deputy assistant to the president Cecilia Munoz, reopens in the press an issue that has yet to hit the floors of Congress. It also sends a message to Hispanic groups that helped elect Mr. Obama that their concerns for a path to legalization for some 12 million undocumented workers have not been forgotten.
In a statement, the National Council of La Raza (NCLR), the largest national civil rights and advocacy organization, "welcomed today's report in The New York Times that President Barack Obama has made immigration reform one of his top priorities for this year."
White House plays it down
But White House officials on Thursday played down views that the administration's priorities are shifting.
"The president has consistently said that he wants to start the discussion later this year, because our immigration system is broken and needs to be fixed," says White House spokesman Nick Shapiro. "But the economy comes first, that's why we're so deeply engaged in that now. We will start an immigration discussion later in the year."
---