Blagojevich case: Will it seal Illinois' reputation as most corrupt state?
Ousted governor pleaded not guilty to federal charges on Tuesday, as political watchdogs tally cost of state's long history of graft and cronyism.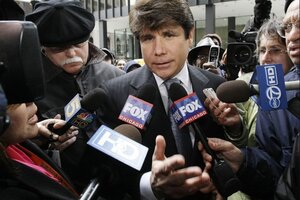 Charles Rex Arbogast/AP
The arraignment of former Gov. Rod Blagojevich on Tuesday was an all-too-familiar scene for Illinois residents: another state or local public official appearing in court to answer corruption charges.
Like many, Mr. Blagojevich pleaded not guilty, meaning he moves a step closer to trial on 16 federal counts of corruption and conspiracy. And, like three former Illinois governors in the past 35 years, he faces prison time if convicted.
With Illinois' ignominious record (and that's only part of it) comes the bald question: What is it about this state that makes it such a long-standing hotbed of political corruption?
Lest anyone say its ne'er-do-well reputation is exaggerated, consider this: At least 1,000 Illinois officials and businessmen have been convicted of public corruption since 1970, according to a February report by the University of Illinois at Chicago. By another, more recent estimate, corruption costs taxpayers here $300 million a year.
If Illinois' notoriety adds to a mythical canvas colored by gangsters and back-room deals, the Blagojevich saga has the potential to create a watershed moment for the state. Confronted first with voters' expectations for government transparency promised by favorite son Barack Obama, and now with a state budget crisis and recession, Illinois lawmakers are facing intense public and media scrutiny. Next month, they will be forced to address the most comprehensive political-reform proposal in more than 30 years.
---