Obama talks guns, immigration in Mexico
He vows to support a regional treaty to curb gun trafficking as well as greater cooperation on clean energy.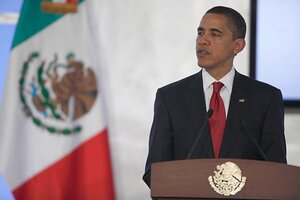 Dario Lopez-Mills/AP
President Obama struck a realistic tone in his first-ever visit to Mexico, pledging cooperation on key issues such as drug violence and immigration, but warning that nothing he or his Mexican counterpart could do would solve the problems completely.
In what has been scaled back to a less-than-24-hour visit, Mr. Obama also announced a few initiatives. He said he would push the United States Senate to ratify a treaty aimed at regulating the trafficking of certain types of guns in the Americas – a measure that was signed by President Clinton in 1997 but never ratified. In addition, he said that the US and Mexico, in tandem with other countries in the hemisphere, will pursue a clean-energy partnership.
The president sought to stress that the two countries were not linked solely by the challenges they share. "Our relationship is not defined only by these problems," he said in an afternoon press conference with Mexican President Felipe Calderón. "It is also defined by our opportunities."
---