Chummy Obama, Chávez mark 'spirit of cooperation' at summit
Despite worries that the agenda would be hijacked by a debate about America's Cuba policy, the Summit of the Americas finished with a feeling of goodwill.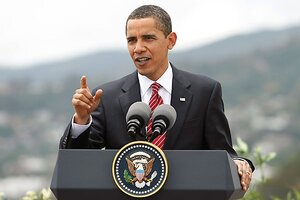 Kevin Lamarque/Reuters
Port of Spain, Trinidad and Tobago
With frank exchanges and the appearance of a new maturity, regional leaders including a travel-weary but enthusiastic President Obama breathed new life into the Summit of the Americas – a meeting that at least one member thought had outlived its usefulness before this weekend.
The North and South American leaders who came together in Trinidad and Tobago failed to reach unanimity on a final declaration issued at the summit's close Sunday. But if anything, the decision instead to end proceedings with only a "consensus" suggested – not acrimony – but a new openness to robust dialogue in regional relations.
At a Sunday press conference, Mr. Obama hailed a "very productive" event that "replaced the ideological divisions of the past with a spirit of cooperation and a willingness to act."
His determination not to be provoked by aggressive, anti-US leaders such as Daniel Ortega of Nicaragua and Hugo Chávez of Venezuela typified the esprit de corps of the meeting.
Canada's Prime Minister Stephen Harper admitted at the summit's close that he was not even sure before arriving if the periodic gatherings continued to serve a purpose – this was the fifth Summit of the Americas since 1994. But he said he had changed his mind after two days of discussions that revealed a new "spirit of cooperation" despite different approaches to common challenges.
---