DC in the spring: See the Capitol, skip the White House
May and June are some of the best months to see Washington.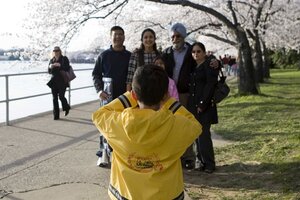 Kristoffer Tripplarr/NEWSCOM
Ah, springtime in Washington! The sun is warm, the tulips are up, and the lobbyists have switched to suits that are slightly less funereal.
May and June are terrific months to visit the US capital. The city is at its most attractive, and summer's tourist horde has not yet arrived, meaning that it is possible to visit the Smithsonian without fear of being trampled in front of the case containing the Hope Diamond.
So if you're planning on using your tax cut from the stimulus bill for a weekend in D.C., here are five tips from someone who has answered the question, "Which way is the White House?" hundreds of times over 30 years' residence:
1. Never plan around the cherry blossoms. They're so fickle that D.C.'s own Cherry Blossom Festival usually misses their bloom. I know they're supposed to remind us of the fragility of beauty, etc., but did we really need to learn life lessons from plants? That's what books are for. Anyway, the dogwoods are much more reliable.
---