Senator Specter defects to Democrats, strenghtening Obama's hand
Tuesday's switch by the independent-minded Pennsylvanian also helps Democrats to solidify power in the Senate.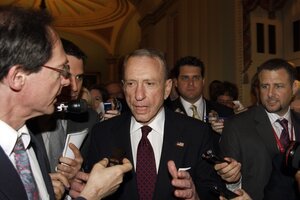 HARRY HAMBURG/AP
Pennsylvania's Arlen Specter, a veteran Senate Republican, shocked the political world Tuesday when he announced he is becoming a Democrat.
The move by the 79-year-old, four-term senator could potentially give the Democratic Party its 60th vote in the Senate, allowing the party to halt filibusters without the help of any Republicans. The implications for President Obama's agenda are significant, as he prepares reforms to the healthcare system, energy, and financial regulation.
Currently, Democrats hold 58 of the Senate's 100 seats, but if Democrat Al Franken prevails in his protracted battle with Republican Norm Coleman in their close Minnesota Senate contest, the addition of Senator Specter brings the number to 60. Mr. Franken is currently ahead, and Senator Coleman's prospects look dim in his continuing court battle.
Which one changed?
Specter framed his decision to quit the troubled GOP as one of the party leaving him, not changes within himself.
"Since my election in 1980, as part of the Reagan Big Tent, the Republican Party has moved far to the right," he said in a statement released early Tuesday afternoon. "Last year, more than 200,000 Republicans changed their registration to become Democrats. I now find my political philosophy more in line with Democrats than Republicans."
---