Democrats' message to GOP in budget plan: We don't need you
Though Democrats are asking for bipartisan support, the resolution passed Wednesday suggests they are prepared to go it alone on healthcare and education reform.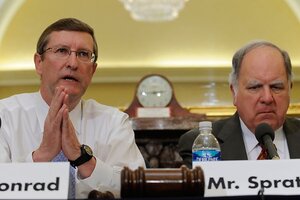 Susan Walsh/AP
There's a powerful weapon buried in the $3.6 trillion 2010 budget agreement that Congress passed Wednesday without any Republican support.
It's a fast-track rule called reconciliation, and it means that the president can move two of his top priorities – healthcare and education reform – with only a simple majority of votes in the Senate, instead of the 60-vote threshold that has derailed countless reforms in the past.
President Obama, marking his 100th day in office Wednesday, won't need to sign the agreement. It's not legally binding. But it does lay a path for moving an ambitious agenda, including a plan to jump-start a conversion to cleaner energy. With budget reconciliation, it also gives the majority an edge in moving those priorities through the Senate.
Democrats had considered including the president's third priority, clean energy reform, on a possible fast-track as well. But opposition from senators in coal-producing states proved too powerful an obstacle. On March 12, eight Democrats and 25 Republicans sent a letter to the Senate Budget Committee urging that reconciliation not be used to enact a cap-and-trade regime for controlling global warming. They warned that it was likely to impact "nearly every feature of the US economy."
"Legislation so far-reaching should be fully vetted and given appropriate time for debate, something the budget reconciliation process does not allow," they wrote.
---