Specter switches parties to win reelection
As the Republican Party shifted to the right, his chances of winning a 2010 primary were 'bleak,' he says.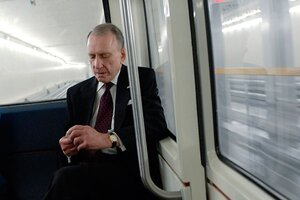 Jonathan Ernst/Reuters
The prospects for Sen. Arlen Specter as a Republican were grim.
But as a Democrat – solidly backed by President Obama and a Pennsylvania icon, Gov. Edward Rendell – he's on track for a sixth term in the US Senate.
That's the simple calculus, readily admitted, behind Senator Specter's decision to break with the Republican Party and caucus with the Democrats.
Public polls showed that Specter had the support of only 30 percent of likely GOP voters in the 2010 primary. At least 180,000 party moderates – his core supporters – switched parties in 2008 to vote for Mr. Obama.
In a press briefing Tuesday, Specter described his prospects for reelection as a Republican as "bleak." "I am not prepared to have my 29-year record in the United States Senate decided by the Pennsylvania Republican primary electorate," he said.
A maverick Republican
During his years in the Senate, Specter had plenty of opportunity to rile GOP voters and colleagues with his votes in favor of abortion rights, embryonic stem cell research, and social spending. He also angered conservatives with his role in the 1987 defeat of Robert Bork's nomination to the Supreme Court. More recently, he blasted "executive branch excesses" during the Bush years in an April 16 essay in The New York Review of Books.
The essay ends with this note: "I doubt that the Democratic majority, which was so eager to decry expansions of executive authority under President Bush, will still be as interested in the problem with a Democratic president in office. I will continue the fight whatever happens."
---