Among Democrats, a rift over siding with banks
Twelve Democratic senators joined a united GOP on Thursday to prevent bankruptcy judges from being allowed to rewrite mortgage terms for homeowners facing foreclosure.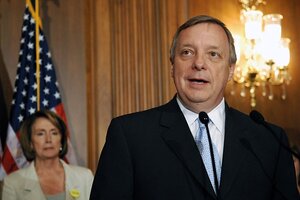 With Sen. Arlen Specter exiting the GOP this week, Senate Democrats appeared to be one Minnesota recount away from an unassailable supermajority – that is, until they lost 12 of their own on a key housing vote.
It's a reminder that Senate votes come one at a time – despite what the fundraising appeals on both sides of the aisle say about getting to that game-changing 60-vote threshold.
The 45-to-51 vote also uncovers a significant rift in the Democratic majority's ranks on a defining issue: How far to accept the finance industry's view of the nation's economic crisis and its solution.
At issue in the vote was whether to empower bankruptcy judges to rewrite mortgages to help families avoid foreclosure. The amendment, sponsored by Senate majority whip Richard Durbin, adds bankruptcy reform to a housing and consumer protection bill that enjoys bipartisan support.
The underlying bill increases borrowing authority for the Federal Deposit Insurance Corporation to $100 billion, up from $30 billion, and makes permanent a temporary increase for FDIC deposit insurance to $250,000, up from $100,000 last year. It also expands access to the $300 billion Hope for Homeowners program. Courts can now write down the interest or principal on vacation homes, yachts, and other big-ticket items involved in bankruptcy proceedings, but not on primary homes.
---