Congress turns from bank bailouts to helping consumers
Targets include credit card companies, payday loans with exorbitant interest rates, and predatory mortgage lenders.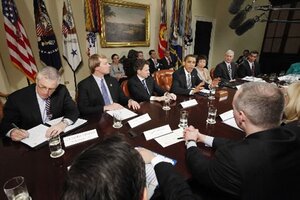 Gerald Herbert/AP
The nation's deep economic slump is giving new impetus to moves on Capitol Hill to help consumers weather the crisis.
Targets include credit card companies that raise fees retroactively, payday loans that rack up annual interest rates as high as 391 percent, and predatory mortgage lenders that set millions of families on a road to foreclosure.
To date, much of the policy focus in Washington has been the rescue of the embattled financial services sector. The next marker will be the release of stress tests for the nation's 19 largest banks, expected Thursday.
But with public approval of banks and bailouts in the tank, Congress wants also to build up a record helping Main Street, even if it means taking on issues long opposed by the financial services industry.
"Ninety percent of the American people want us to do something about credit cards. We're going to take on the banks," said Senate majority leader Harry Reid, in a briefing on Thursday. "We're focusing on Main Street, not Wall Street."
Credit card holders want action
Last week, the House passed by a vote of 357-70 a Credit Cardholders' Bill of Rights. The bill accelerates the timing of new rules by the Federal Reserve, issued in December after 66,000 consumers (a record) sent in comments backing the changes.
---