Voters pan Schwarzenegger and his budgetary 'Valley of Doom'
The California governor has backed a package of six budget-reform propositions to save the state from the prospect of $42 billion deficits. But a poll suggests five could fail.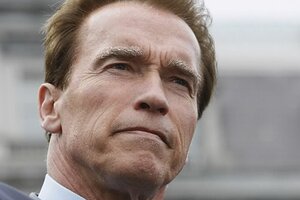 AP Photo/Charles Dharapak
Gov. Arnold Schwarzenegger is facing yet another moment of truth.
Having barely squeaked through a last-minute budget deal in February to close a $42 billion deficit, he now faces a May 19 special election with six ballot measures intended to fix the state's dysfunctional budget process for good.
"Never again do we want to find ourselves wandering around in another $42 billion Valley of Doom," Governor Schwarzenegger reportedly told an audience in San Francisco in March. "A 'yes' vote [on the ballot measures] puts our great state back on the path to prosperity."
But voters will likely reject five of the six measures, according to a California Field Poll released last week. Partly, they're are angry at politicians, and partly they feel they've heard the governor's argument before. Analysts say the package ignores the reform that is most needed: ending the two-thirds majority required to pass a budget bill, which allows tiny cadres of legislators to hold the process hostage.
The measure promises a spending cap and a rainy-day reserve fund. A second provides new school funding. A third allows the state to borrow against future lottery revenue. A fourth and fifth moves tobacco-tax money and health funds to the state's general fund. A sixth prohibits legislators from giving themselves a raise when the budget is not balanced.
Antitax activist Jon Coupal thought much of this had been sorted out in 2004. Proposition 58 was supposed to check state spending. It passed with 71 percent of the vote, prompting Schwarzenegger to tell NBC's "Meet the Press": This "is the first time that our politicians' credit cards have been torn up and thrown away so they never, ever, can spend more money than the state takes in."
---